News Feeds
Mixing Live Sound
Equipment Overviews
Note: Unlinked titles represent planned pages for this section of the site. Please check back!
Sound for Musicians
General Articles
Reprinted Articles
Our collected articles have been moved to the Sound Articles Section of the site.
Other Site Features
My Related Sites
Useful Products
I have listed some equipment that I have for sale.
I am also inviting others to list for sale or wanted equipment via the comment box.
Book of the Day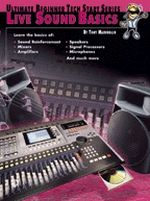 This book provides the foundation necessary to understand and use live audio equipment so that every performance has a professional sound.
Check It Out