A Good Sound Reinforcement System
A young musician recently asked me for a list of the equipment that I had in Sturgis over which they played during the rally. He wanted this list because he thought that the sound from my rig in Sturgis was the best that the band had had to date. This brings up the subject of what makes a good PA. I use good equipment, although not all of it is the latest hot items on the market. I think that it is worth expressing some thought on the subject.
The Building Blocks
There are basic elements that are needed for any rig, from a small announce pa to a major concert rig. There are also some items that are nice to have and which make the job easier.
The basic elements would be input device (microphone, etc.), pre-amplification (mixer), amplification, and speakers. These are the things necessary to produce sound. The differences between the basic announce PA and the concert PA are mainly in quantity and quality. The concert rig will typically have more input channels, better electronics, more flexible EQ, more outboard gear and signal processing, more and better quality power, and more and better quality speakers.
Of the physical equipment, things that change the form of energy from mechanical to electrical or electrical to mechanical are probably the most critical. The sound that we hear is mechanical energy as are the words that we speak. A microphone converts mechanical energy to electrical energy and a speaker converts electrical energy to mechanical energy. Therefore, having a solid mike kit and good quality speakers with adequate power is a good start to a good PA system.
How to Put a System Together
I have seen people get caught up with the toys when building a system and not put the money where it would do the most good. Effects processors and signal processors are nice to have, but having good quality in the basic blocks of the system will go farther in producing quality sound.
I intend to get into the individual elements in the PA system in other articles. I will give some general guidelines as to what is important when shopping for these items in those articles.
The Most Important Part
The most important element in having good sound is not in the hardware. The engineer that has a good set of ears and knows how to operate the available equipment will determine if you have good or bad sound. The better the equipment is in every block of the system the easier it will be to get that good sound. The engineer must know what he wants it to sound like and then he can go to work to produce that sound to the best of the equipments capability.
Book of the Day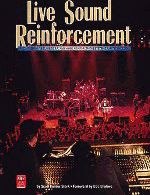 This comprehensive guide covers P.A. system operation and sound system design concerns commonly encountered in the "real world" and their related theoretical background.
Check It Out