I Need Your Help and Encouragement
First let me apologize if you got to this page expecting job offers. I do have tasks set out for you below, but no work at the present time.
I have been blessed in that I have been able to make a reasonable living over the past many years doing something that I truly enjoy. That is being part of the music scene by being an audio engineer. I have owned and operated a small sound reinforcement production business. This site is my attempt to give something back to the community that has been so kind to me.
Unfortunately Google has decided that those searching for 'mixing live sound' or 'live sound mixing' are really interested more in hardware and not the art of mixing sound. The site was listed on the first page of the search results for a couple of years but has now been relegated to the basement! Without being on the first page of the search results people are having trouble finding the information that I offer here.
The landscape of the Internet has changed. It has become a much more social place. If I want people to know about this site I must change a bit with the times and become known where people that might be interested hang out. I am a social media newbie so it may take a bit to learn the ropes.
Like / friend our pages on the social sites
Social bookmark articles that are of help to you
If you find value link to it from your pages
Tweet about things of interest here
Tell anyone who may be interested about the site
Leave a comment about the articles on the site
What I Have Done:
The Sound Articles section of the site has had sharing icons for some time. I have added the sharing buttons to the main site and to the blog. Please use them to bookmark the site.
I have established a FaceBook Fan page for the art of mixing live sound. Please stop by the page and like it. Most of you probably have a FaceBook page of your own. If you have friends that may be interested in music and sound you could tell them about this site with a link.
I have also made a Twitter stream for this site. I will tweet when I add new content to the site. I will also try to tweet a mixing tip from time to time. If I find an article on another site that may be of interest I will tweet about that, too. I may also retweet news of interest to the community. Please become a friend on Twitter.
Google+ is also becoming important. I have heard that Google is making a profile page for anyone with a Google account. If you have a gmail address you probably have a G+ page. Drop a link to the site there.
Pinterest is one of the fastest growing social sites. I have an account as PenniesForWink Publishing there. I will try to get some interesting photos up on the site. Please pin or repin the photos that you find interesting.
I now have a LinkedIn profile. Connect with me there. I will be fleshing out these profiles in the next few days, so check back occasionally.
I have discovered a social network specifically for people in the music industry. Numubu is the name of the site, so visit my page there. This has been an interesting start. I put a profile page up on FB over a month ago and have no idea if anyone has even seen it. I put my profile page up on numubu and had a welcome message from a member within the first half day.
I mentioned the share it buttons in the first paragraph. Please consider using them or bookmarking the site with your favorite social sites. Bookmark any pages that have been of interest to you. If you have friends that may be interested in an article please consider emailing them a link to the page. According to the best practices listed on the AddThis site I am doing it wrong, but the buttons are at the top of the nav column.
There is one more thing that you could do to help the site pay the rent. I recommend that you support your local music stores by buying anything that you can locally. Your local music store needs your support to stay in business and be there when you need the products and services that they offer.
Because not all local music stores can offer all of the products available I have the Shopping Guide section of the site. The merchants listed there are all willing to pay a small commission for any purchases that you make through my links. If you find something in which you are interested please visit the site through the link in the Shopping Guide.
The same is true with the listings in the BookStore and the 'Book of the Day' listings in the right column. I am an affiliate with Music Books Plus and make a small commission if you choose to buy one of the books listed or the many other titles offered on their site.
My intentions with the site -
The loss of traffic from the lack of representation in the search results has been a bit depressing. I am to blame for part of that loss in position. I have not updated the site on a regular basis, and Google likes fresh original quality content.
If you will help me out by building a community around this site I will try to add some more articles and things of interest to the site (check the Site News page for new additions to the site). If there are any suggestions that you have for me or any subjects on which you would like more information please leave a comment in the Message Center.
Thanks,
Wink
Book of the Day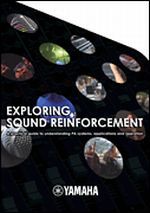 As a commendable follow-up to Yamaha's Sound Reinforcement Handbook (HL028), this new instructional DVD from Yamaha Professional Audio is an excellent resource for beginners and professionals who do live sound.
Check It Out