Do you want to try mixing in the box live?

Mixing in the Box
There is a software written for a PC that is designed for live sound production, The Software Audio Console - SAC (Available from RML Labs). It is a full featured digital console software. While it is possible to hook up external hardware controllers via midi, the software is designed in such a way that you can do what needs to be done on the computer quickly and easily using only the keyboard and mouse. When the system is operated without an external control surface it is known as mixing in the box.
I learned about the software package a couple of months ago. When I understood the capabilities of the software I decided that I wanted to add this to my arsenal of audio production equipment.
I only purchased my first computer. The several that I have owned since then I have assembled myself. I researched the specific equipment that I would need and set out to assemble my own SAC rig. I completed and tested the set-up this past week. The following is the story of my first live experience with the system.
The Adventure
I took the new rig out to a gig and used it this evening. A band that I worked with for years was doing a reunion gig at a venue they used to play. I ran the show on the SAC rig.
The management was frightened by my 'little' pa. They talked to the band and they talked to me. The owner told me that this wasn't an arena show and I didn't need all that pa (single stack of JBL SR series cabs per side - he may have had a stroke if I had rolled in about 5' of analog desk plus a processing rack). At the end of the night they told the band that the volume was perfect.
I am painfully slow because I don't know my way around the software yet. I can see from this initial experience that the software and system will be a pleasure to use. This also is very compact for the capabilities. It replaces a mixing board and a house signal processing rack that takes up 8 feet of table space.
I also had the handicap of mixing from directly behind one of the stacks (its a small venue). A remote on a laptop would have been a beautiful thing! (The system has remote capabilities built in. This can be hard wired with cat 5 cable or can be run over a wifi link.)
The rig ran without a glitch (I can't really say the same for me). I had 12 channels and three monitor mixes. By the end of the show I had enough processing going on to occasionally bump 8% load. That means that there is a lot of 'headroom' to run many more inputs and monitor mixes on this system. The software is capable of running 72 stereo channels and 24 stereo monitor mixes if the hardware is up to the task.
We will do it all again tomorrow evening and then next week I plan on taking it to a church convention that I am working. I needed to do this one so that I will be ready for the next one (you can't find an answer to a question if you don't know what the question is, or even that there is a question that needs to be asked). It was an interesting (read learning) experience.
The owner of the home studio where the singer records was there and was impressed with the sound. A local Karaoke operator told me it sounded great. Several other people had favorable comments (and the crowd went wild). The people in the crowd that are familiar with production were all impressed with the hardware.
The Adventure Continues - Second Night
I went to the club for the second night of the gig. I arrived a bit early to get the system up and running as I wanted to be ready to start the show on time. As I was turning on the rig the bass player informed me that there was someone there to record the show. This meant that I needed to route the outputs so that I could give him a feed. There would have been a better way to do what needed to be done, but I did not think of that until later.
I eventually got something going so that there were signals out of the mixer feeding his inputs. We hope that this was close to right and that he got something usable to work with. There were 7 stereo channels that could be routed to hardware outputs available on the FOH mixer, and 16 sub-master output modules that can be routed to the available hardware through those stereo master outs. I sent each active channel to one of those 16 outs. I panned the outs and sent them to the master outs and assigned the master outs to hardware. Eventually there was signal available to the recorder.
Once that hecticness was taken care of the rest of the evening was on cruise control. The band got a bit loud and management yelled at me a bit. The recording tech was impressed with the software, particularly with how small of a load that much signal processing put on the computer. With the additional 13 outputs I went from bumping 8% load to slightly more solidly bumping a 10% load. I sent him a link to the SAW Studio site. And the crowd went wild again.
The Equipment I Used for this Show
The baby system is a pair of JBL SR Series stacks - 2X12 with 2" over double 18" bottoms powered by 2 Crown I-Tech 4000's and a QSC PLX-1602 for the horns (I use these for side fills for some shows). I used a drive rack PA for a system controller and drove it from the SAC output. Monitors were 3 Eons each on a separate mix (the singer doesn't want no stinking monitors in the way). The band is a four piece R&R band G,B,&D with a front man. Six mikes on the four piece drum kit, base out, guitar mike, guitar DI for the unused acoustic, and four vocal mikes.
Some Lessons Learned
This system is brand new to me. I had an issue that was finally resolved on Friday afternoon. I had not had time to play with the system and was not really prepared, myself, to make the leap. There are a lot of shortcuts with the default installation that I did not think of when I was using the system at the club. I did not even have a basic mix session programmed from which to work.
The patching for the system is all virtual, but it has to be done. This patching is all saved in the mix session file. I will program a few different starter sessions to cover the various situations that I may encounter. Then it is just a matter of opening an appropriate mix session and the machine will be set up. When the gig is over you can save all the settings to a unique mix session file and start where you left off, be it the next night or next year.
There are alternate views available by way of the 'F' keys on the keyboard. You can also save additional views. There were things literally available to my finger tip that would have allowed me to work much faster. The software is designed and developed by an experienced audio engineer. It is built for speed and accuracy.
I did need this experience with the software to get a feel for the way it works and to know more of the things that I need to know as I work with this software. I can see that it will be a pleasure to work with this system on many different levels.
The Future Plans
I will put together one or two more of these systems, probably this year. The next system will be a more compact system with 16 or 24 inputs. I will use it for the small club gigs that I still do on occasion and for second stages at some events. I have a computer that would work for that rig already, so the expense will not be as great.
I will probably also put together a concert system with more inputs and a fancier interface. That system will be more expensive, but not nearly as expensive as buying a state of the art digital mixing system.
Book of the Day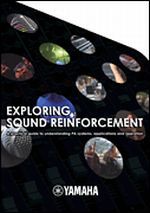 As a commendable follow-up to Yamaha's Sound Reinforcement Handbook (HL028), this new instructional DVD from Yamaha Professional Audio is an excellent resource for beginners and professionals who do live sound.
Check It Out