For a complete digital mixing solution that runs on a PC see my site: Mixer In A Box. The mixer runs on RML Labs SoftWare Audio Console software. I am also offering to assist with the assembly of these systems.
---
SETUP , TEST, TUNE AND TWEAK YOUR STEREO, SOUND SYSTEM, PA, OR VIRTUALLY ANY AUDIO DEVICE USING YOUR LAPTOP OR DESKTOP PC!
Designed for professional sound engineers, audiophiles and tech-musicians, AQT is regarded as the "must-have" audio setup software. Its comprehensive signal selections are engineered to run smoothly on any compatible Windows laptop or desktop PC.
For More Info Click Here!
---
The Home Recording Studio Guide - The Ultimate Guide to Recording, Mixing and Mastering your Music!
This 115 Page Guide will give you the insight into what ground breaking studios are doing to Get Immediate Results.
For More Info Click Here!
---
How would you like to improve your home or studio recordings?
If your recordings are lacking that professional shine then you can learn how to harness the power of audio ear training!
By learning how to hear frequencies in music you can drastically improve your studio and home recordings! GUARANTEED!
This is also an important ability for the live sound engineer. For More Info Click Here!
---
Disclaimer: The above links are affiliate links. If you purchase any of these products I will make a small commission. I have not checked these products extensively at this time, but I believe that they would all be of value to anyone interested in Live Sound Production. Thanks!
Book of the Day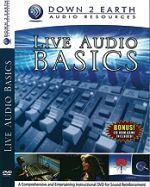 This Basics in Live Audio course teaches practical, useful tips and techniques from the ground up with the "ordinary guy/gal" in mind. It covers the technical basics; signal path, microphones, equalization, etc.
Check It Out