Post your spare or needed equipment here.
The Mixing Live Sound Un-Classified
I have some equipment in the warehouse that I need to sell. I invite others to list equipment that they wish to sell or for which they are searching in the comment section below.
2 - Crown MA-3600 Amplifiers
1 - Soundcraft Spirit Live 8 - 24 channel mixing board
4 - JBL 2445 2" Throat horn drivers with new 2446 diaphragms - 16 ohm
There may be other equipment listed soon, so please check back. This list is current as of 08/03/2010. I will update it when necessary. You may contact me by email at: wink@mixinglivesound.com. Please include a phone number if in the US or Canada so that I may contact you.
Thanks,
Wink
Book of the Day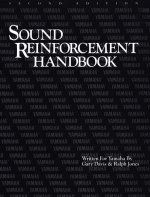 The Sound Reinforcement Handbook features information on both the audio theory involved and the practical applications of that theory, explaining everything from microphones to loudspeakers.
Check It Out