Power Amplifier Overview
Unless your board has a built in power amplifier or you have powered speakers you will need a power amplifier for your sound reinforcement system. A power amplifier accepts a low level mid to high impedance input signal and supplies the required high current low impedance output needed by your speakers. The power amp is an important part of your sound system. It must be able to supply enough current to your speakers to attain the volume you require without noticeable distortion.
For professional applications power amplifiers are generally offered in a rack mountable format. The most common configuration is two channels of amplification on the chassis but higher channel counts are becoming more common. Power amplifiers, like boards, come in analog and digital designs. The power density of digital amplifiers is greater than their analog cousins and the weight is significantly less. There have been digital designs available for over twenty years. The technology has matured to the point that digital amplifiers have become the industry standard.
There is a wide range of output power and also a wide range of price points available in amplifiers. There are several different standards used in listing the specifications of amplifiers. When comparing amplifiers it is important to compare specifications using the same standards. All watts are not created equal. Some specification standards use dynamic power ratings that give larger numbers. These are designed to produce a better reflection of real world operating conditions. These dynamic ratings can be significantly higher than the long term continuous power rating for the same amplifier. If you were to compare a dynamic power rating from one amplifier with a continuous power rating from a competing amplifier you could end up with an amplifier that looked better on paper but did not perform as well in your application.
Most power amplifiers will give years of dependable service. While the technology changes it does not change as rapidly as with many other components in the sound reinforcement system. When shopping for an amplifier you should consider your specific application, reputation for long term reliability, specifications and price, probably in that order.
There is a broad range of energy required to produce sound across the acoustic spectrum. Most of the energy need to produce clean sound is concentrated in the lower frequencies. For best low frequency reproduction relatively high power and a high damping factor are important specifications. For very high audio frequencies fast transient response is important (sometimes listed as slew rate). If you run full range the amplifier must be strong in all areas. In general buy as much power as you can afford, but in any case you need to buy enough power to reproduce the dynamics of music at the highest volume level required of your sound reinforcement system without introducing distortion.
Book of the Day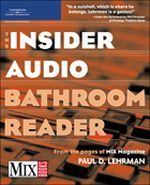 For anyone - amateur or professional - with a serious interest in audio electronics, production, or the modern music-making process.
Check It Out