Our Content Publishing Policies
The articles on the main site are mostly original articles. I have done some content curation in the past and may do that a bit as well. There are opportunities for adding your original content to the site though.
The Sound Articles section of the site offers one such opportunity. The current content in this section is mostly reprint articles from article directories. If you have published original content on a 'free reprint' article directories let me know and I may host a copy here. I also offer opportunity for you to publish original articles through this section.
The Live Sound Mixing Tips blog currently contains original content but I would be open to publishing guest posts of your mixing tips.
Publishing your original content on the site can be good for both of us. If you have a site or a business that you wish to promote you will have the opportunity to set a link to that content. Links in the Sound Articles section are limited to the author resource box. Guest posts can have a link or two within the post content.
There is one more opportunity for publishing content on the site. Our My Musical Experience section is designed to publish articles about music in general and the music scene. If you attend a concert or event and see a good band write it up. If you produce or work a good show write it up. If you have opinions about anything music related express them here. If you have an adventure that in some way involves music please tell us about it here.
I do reserve the right to accept or decline any content offered. If your original content is of good quality and on the topic of live sound I will more than likely accept your article.
Please send all content or inquires to me at publishing@penniesforwink.com If you are including possible content please put 'Content for ____' in the subject line.
Book of the Day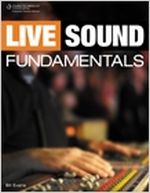 "Live Sound Fundamentals" is aimed specifically at audio beginners and musicians to teach you how to set up and mix a live audio event. Instead of using the frustrating and time-consuming process of trial and error or by watching others, LIVE SOUND FUNDAMENTALS provides the "missing manual" to the art of live sound through helpful pictures & illustrations combined with easy-to-understand techniques.
Check It Out