Feed from ProSoundWeb
Pro Sound Web is a site for professional sound people. The news of the industry is presented on the home page. They also have a library of articles on various aspects of sound production and an active forum.
Failed to Get RSS Data
An error was ecnountered attempting to get the RSS data: The server did not return XML. The content type returned was text/html; charset=UTF-8
Book of the Day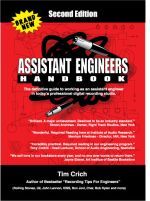 Essential details on Set-up and Breakdown of All Digital and Analog Equipment.
Check It Out