The Mission of Mixing Live Sound
I have been a full time live sound engineer, aka: the soundman, for over twenty years. I own a small sound and lighting production company, sometimes known as AudioArt Sound and Lighting. (You could check out my web site HERE.) The AudioArt name is not registered as a fictious name and I do business under my own name as a sole propriator/private contractor.
I more or less backed into the business. I am not a player (unless a harmonica duet for eigth grade graduation, by the numbers and completely without soul counts. It was suposed to be a quartet, but the other two guys couldn't remember the numbers).
My path to the music business was through electronics. I did repair work on electronic equipment for many years. I worked in and then owned home stereo shops. Some of the electronics that were brought in for repair were musical and PA amplifiers. I got aquainted with various members of the musical community through the repair shop. I was asked occasionally to help out with sound and sound systems.
While I was in the stereo business I learned how to listen to sound systems. I learned about equipment and the various parts that go into building a sound system. I learned about signal levels and signal paths. All of these are areas of knowledge that are needed by a sound engineer.
I came to a breaking point in the consumer stereo business. I started doing sound for a regional Blues act, The Midnight Creepers. At first I was using their limited equipment, but I started buying pieces to augment their sound system. Before too long I had enough invested that I could no longer afford to work with them.
I got a position as house sound engineer in the big local live sound venue of the day. While there we did an average of two concerts a month as well as being an A circuit club. I also began doing gigs with other local bands (the A curcuit acts of the day usually had their own tech). At one time I averaged four nights a week doing small local gigs.
All the while I was adding to my equipment collection. At first it was anything that I could find that would do the job. Then it was upgrading that to better equipment. I have always been a Crown, JBL, and Soundcraft fan. I do build most of the cabinets that I use, but I copy industry standard designs and build to or above factory specs.
My primary business for the last 11 years has been providing production for motorcycle rallies across the country. Between rallies I do some conventions, concerts, other events, and even an occasional club date with a band.
Book of the Day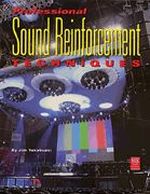 This witty and informative book demonstrates the finer points of live sound mixing from the perspective of an industry veteran with a proven track record.
Check It Out