Sites You May Find of Interest
Cary B. Cornett has written several articles on sound and the recording process.
---
If you would like to exchange links leave a note in the
Message Center
or in the comment box below.
Book of the Day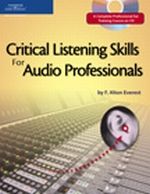 The best engineers have trained their ears to immediately recognize audio problems that the consumer would likely not hear. The ability to instantly identify frequencies, hear hidden distortions, and instinctively reconcile conflicts in the EQ of instruments, audio elements, vocals and more are traits of those who have mastered the art of audio production.
Check It Out